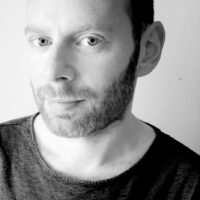 Arthur Cahn
Né en 1984, Arthur Cahn fait Hypokhâgne, Khâgne, puis des études en Lettres Modernes. Après 2 années à l'ESEC en spécialisation documentaire, Arthur part à la New York University en Sound and Sight summer Session. Puis il intègre la FEMIS au département réalisation en 2012 où il réalise 3 courts dont le moyen métrage Les ravissements sélectionné à la Cinéfondation. En 2012 Il part en échange universitaire à CALARTS – Californian Institute of the Arts & suit laformation Low film budget de la London Film School.
En sortant de la Fémis, Arthur réalise 2 courts métrages, Au loin les dinosaures et Herculanum, très remarqués en festivals, le 1er remporte le prix CCAS au festival Premiers Plans d'Angers, le 2ème reçoit le prix de la presse au festival de Clermont-Ferrand.
En 2018, Les éditions du Seuil publient le 1er roman d'Arthur Les vacances du petit renard. Depuis 2 ans, Arthur co-écrit des longs métrages dont celui de Jérémie Elkaïm et développe son 1er long métrage.
Filmographie
2020 • 19 min

Short Film • In production
During the factory's strike, two workers decide to spend three days together in the mild summer as two very close friends know how to do.
2020 • 15 min

Short Film • in-development
Two teenagers drift unwillingly on a buoy on a river. They're going to be taken in by a brother and a sister. It is the meeting of two young people from two different backgrounds.