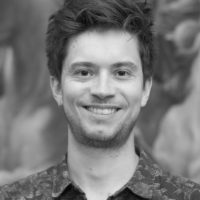 Romain Daudet-Jahan
Off the records – En tournée en Asie avec Giovanni Mirabassi – 2016
Produit par TS Productions. Documentaire de 52' sur la tournée asiatique du pianiste de jazz Giovanni Mirabassi. Avec la participation de OCS et du CNC. Soutenu par la SACEM. Diffusé en septembre 2016 sur OCS City. 2 T dans Télérama.
KABOOM – 2016 – Film expérimental (2,14 min)
Prix Makinarium des meilleurs effets visuels – Trieste International Short Film Festival.
Sélection au festival Courts Mais Trash, Brussels Short Films Festival, Festival du Film Court de Troyes, Très CourtInternational Film Festival, Feel the reel International Film Festival…
Documentaires pour l'ONG NRSC tournés en Haïti, au Salvador et au Honduras.
Le Grand Numéro – 2011 – Comédie musicale (16mm-24mn)
TFE Fémis Production – Soutenu par le Fonds d'Action SACEM
*Prix du public au Beijing Film Academy's International Student Film & Video Festival 2011Sélection dans une dizaine de festivals nationaux et internationaux
Filmographie